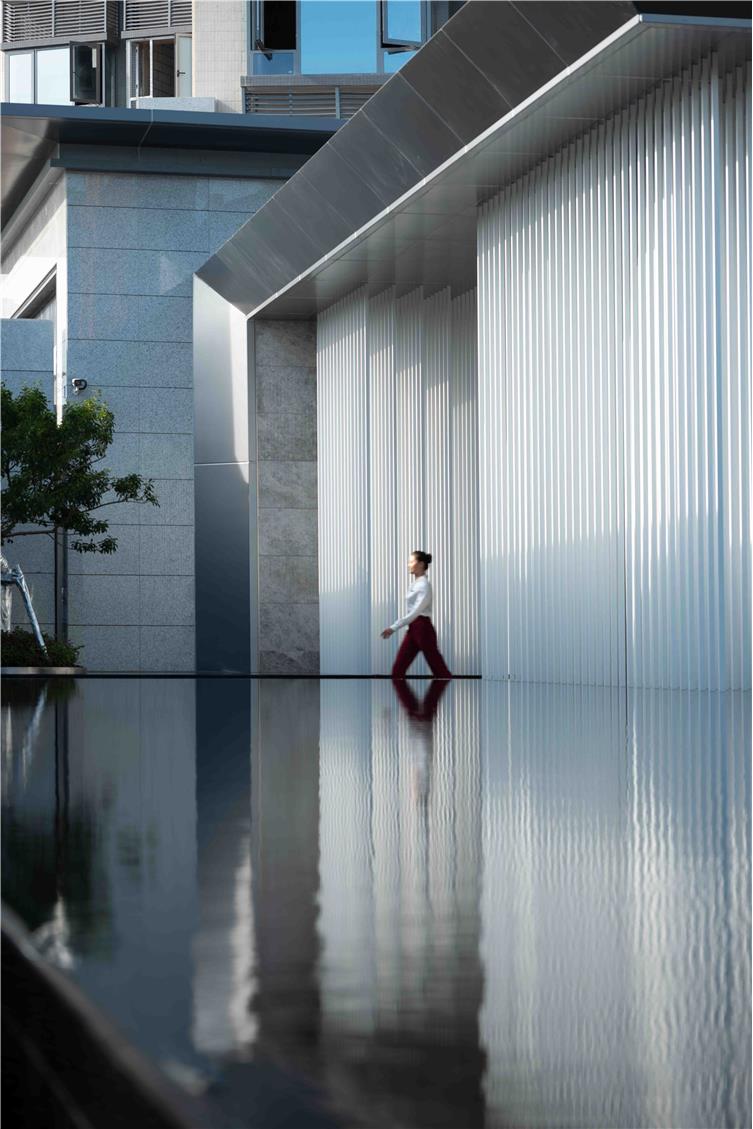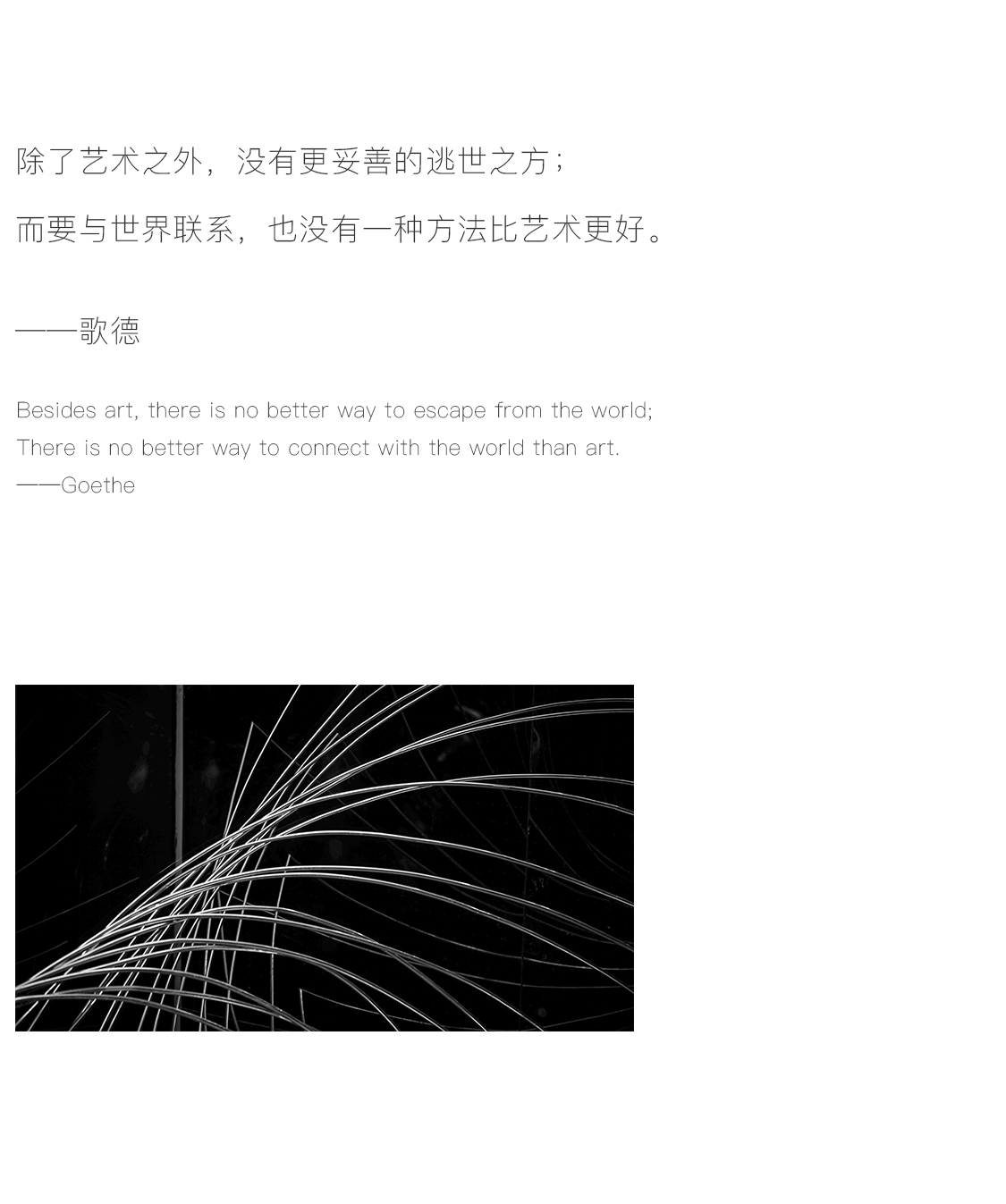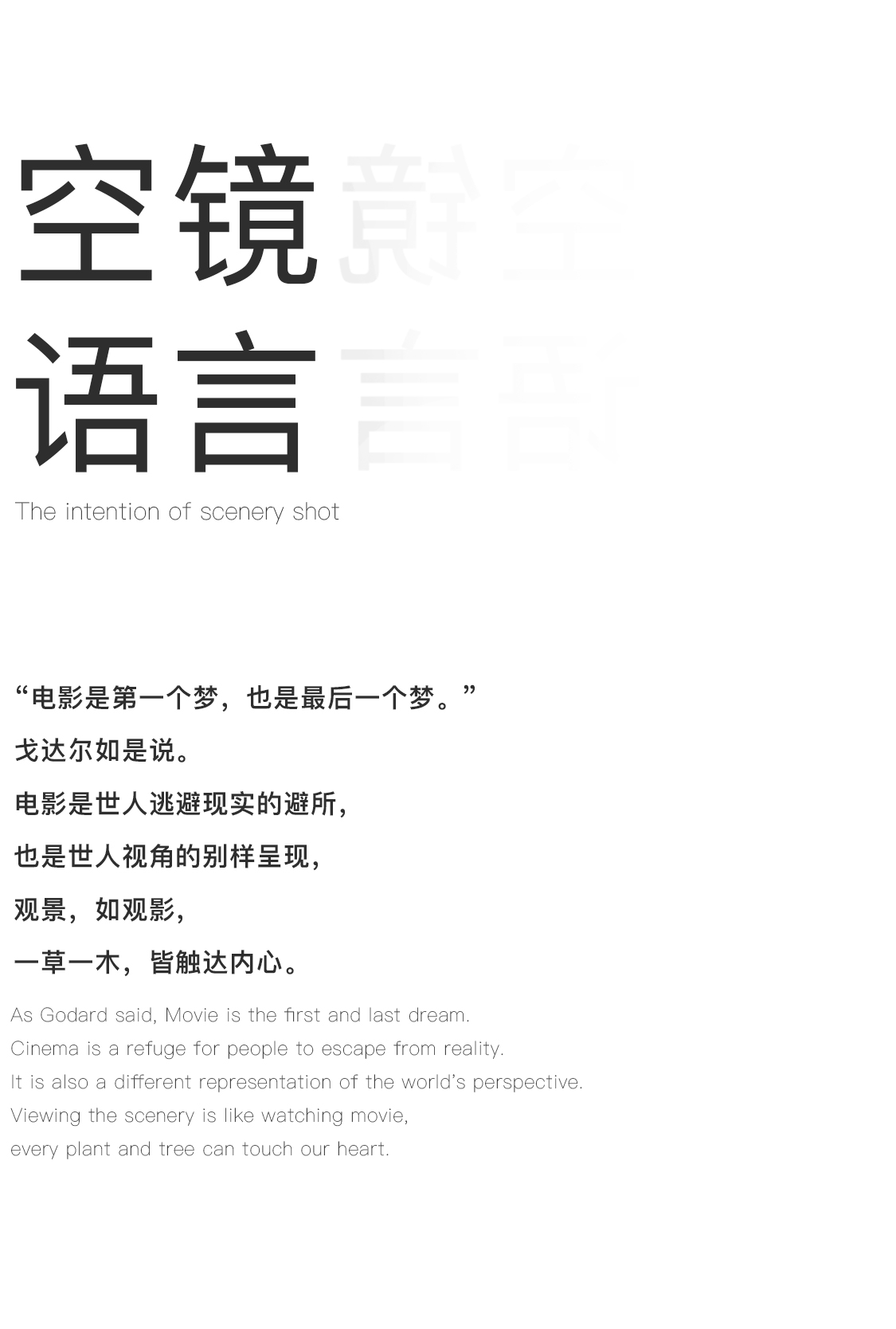 【开幕】OPEN
光彩之证The Lustre
岭南绿城,有热烈的太阳飓风,
也有着淅沥隽永的清风细雨。
Nanning has the blazing sunlight and hurricane, but also the gentle breeze and drizzle.

叠加、重复的阵势并非构建秩序,
而是寻求情感与情感之间的共鸣,将水与清风、木与诗意纳含内里。
The formation of superposition and repetition is not about the order.
It is to seek the resonance among emotions, to bring water, breeze, nature and poetry inside the design.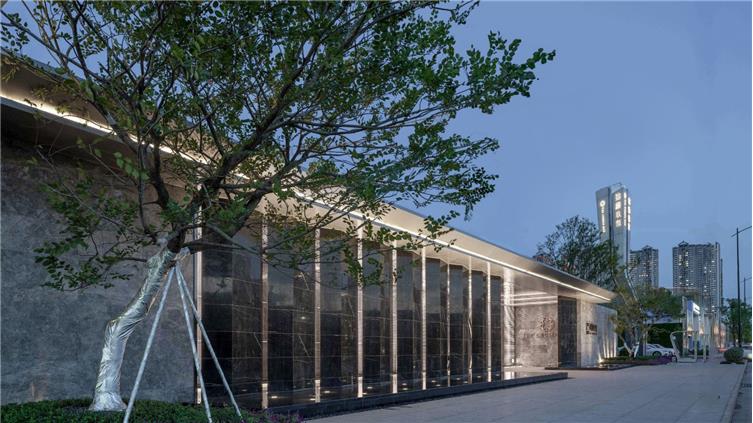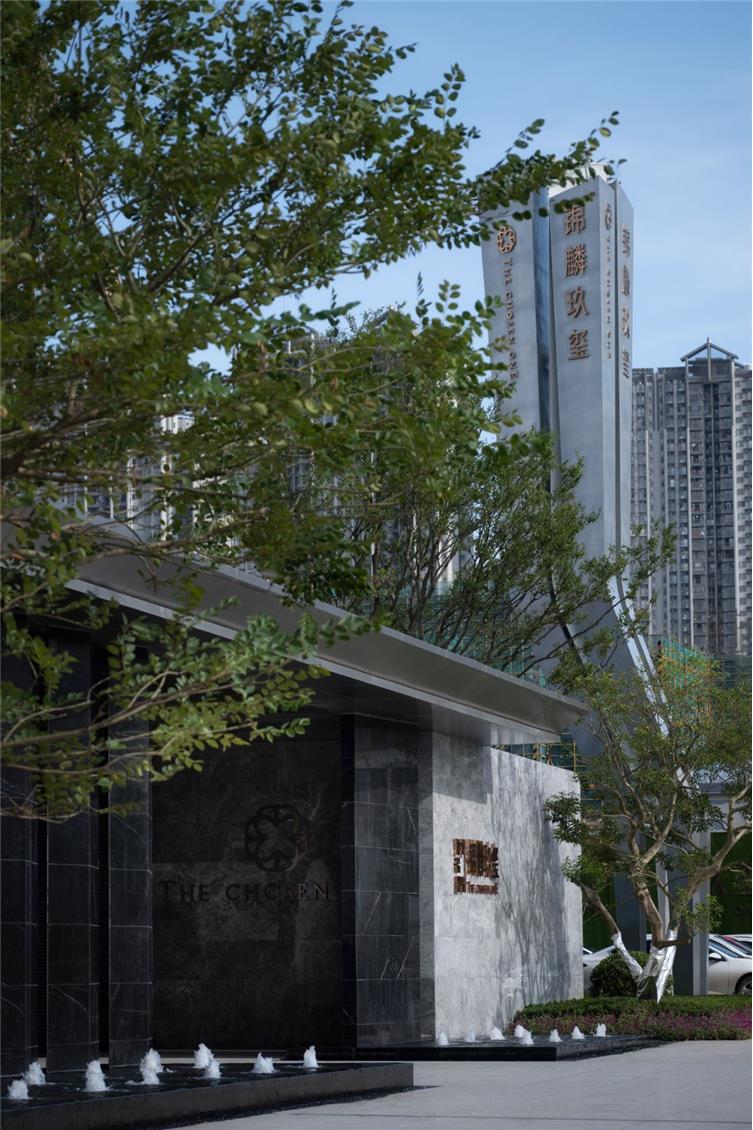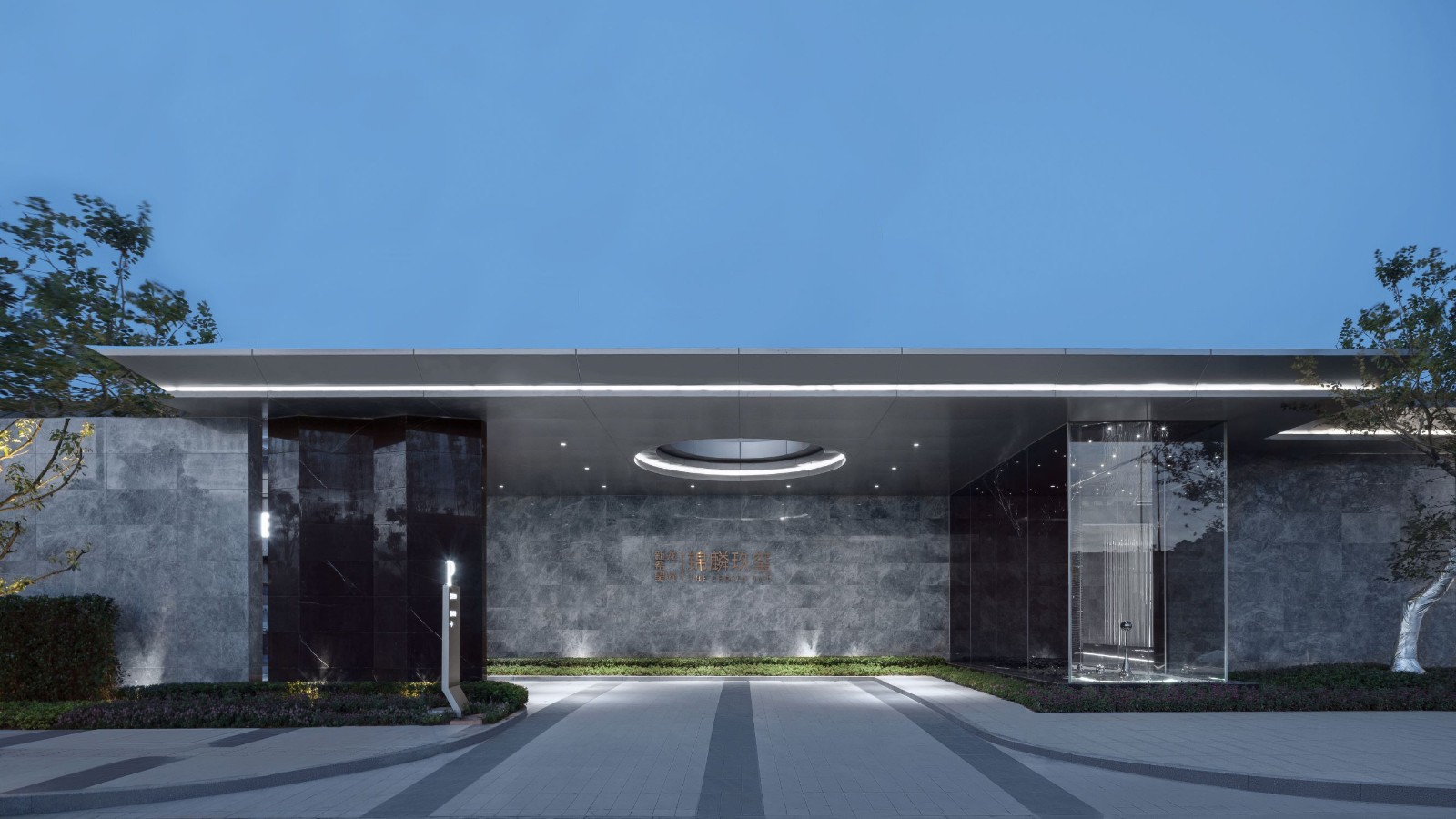 【 衔接 】EXTENSION
圈之印证The Circle
周而复始,循环不已,
一切皆流,无物常驻。
时间终将划破黑夜,
我们终将窥见真正的自我。
Time will eventually break through the night, and we will finally see the true selves.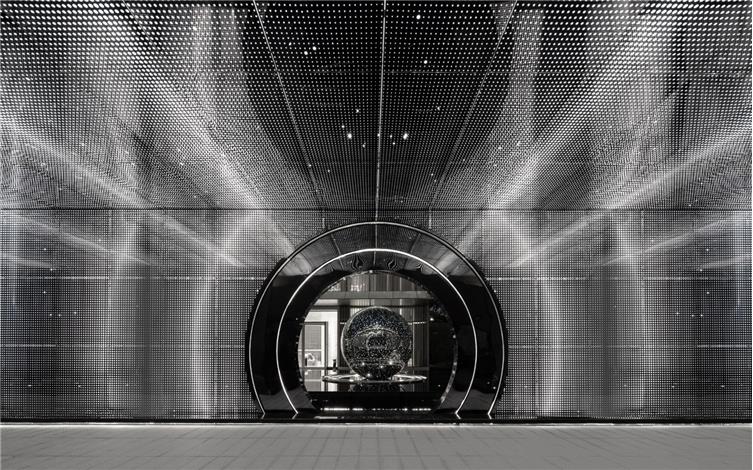 当一颗水珠落到池里,起伏的涟漪成为情感的诱因,
浸入每一个湿润绵长的梦里,继承着古往今来交错的音与画。
When a drop of water falls into the pool, the undulating ripples become the emotional incentives.
Immersed in every long and sensational dream, inheriting the interlaced sounds and paintings from the ancient to modern world.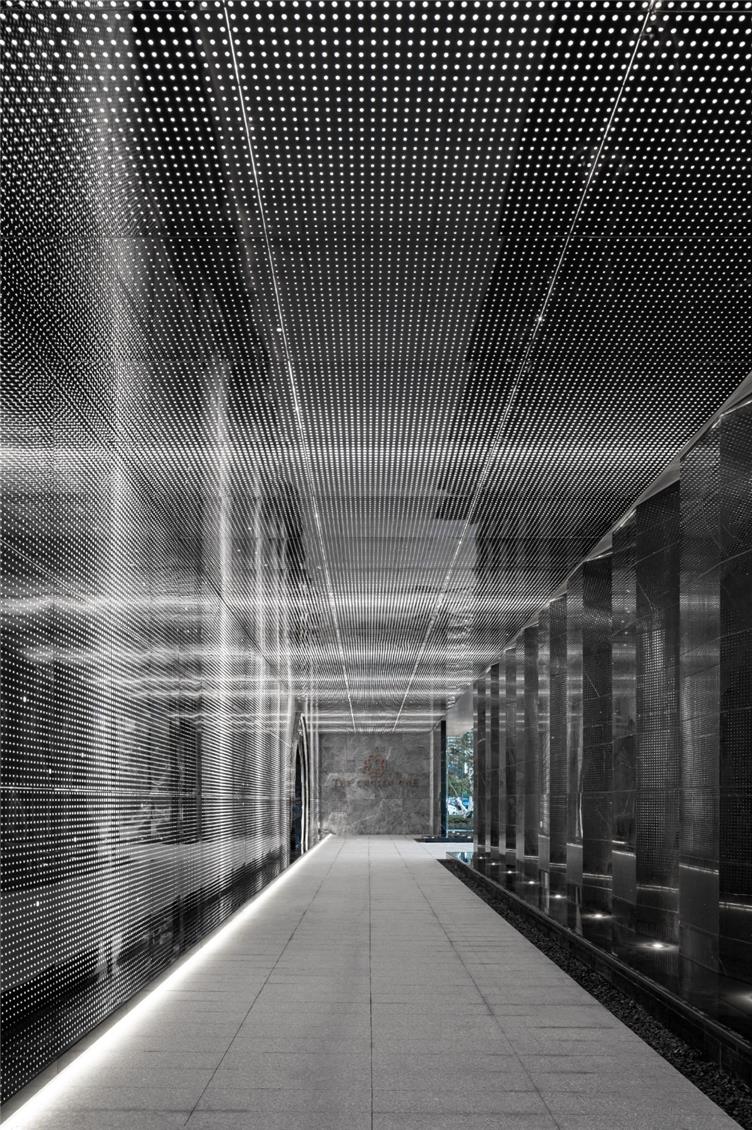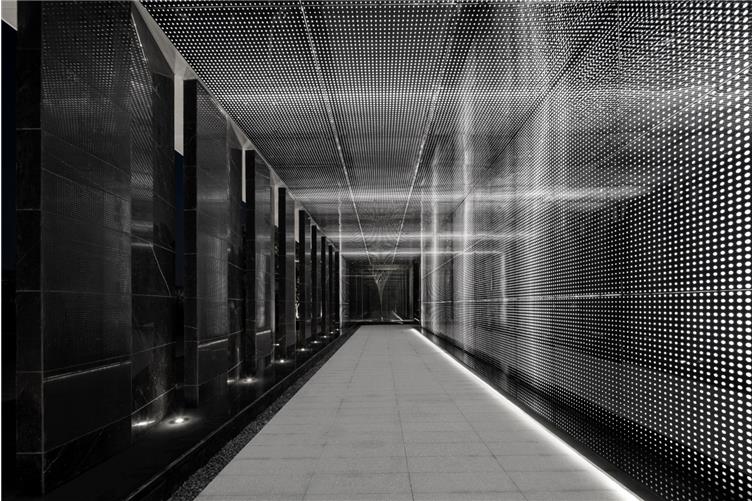 水波 / 波纹 / 纹理
水的变体形态各异,反复无常。
Ripple / Corrugation / Vein
The variation of water is unpredictable with different forms.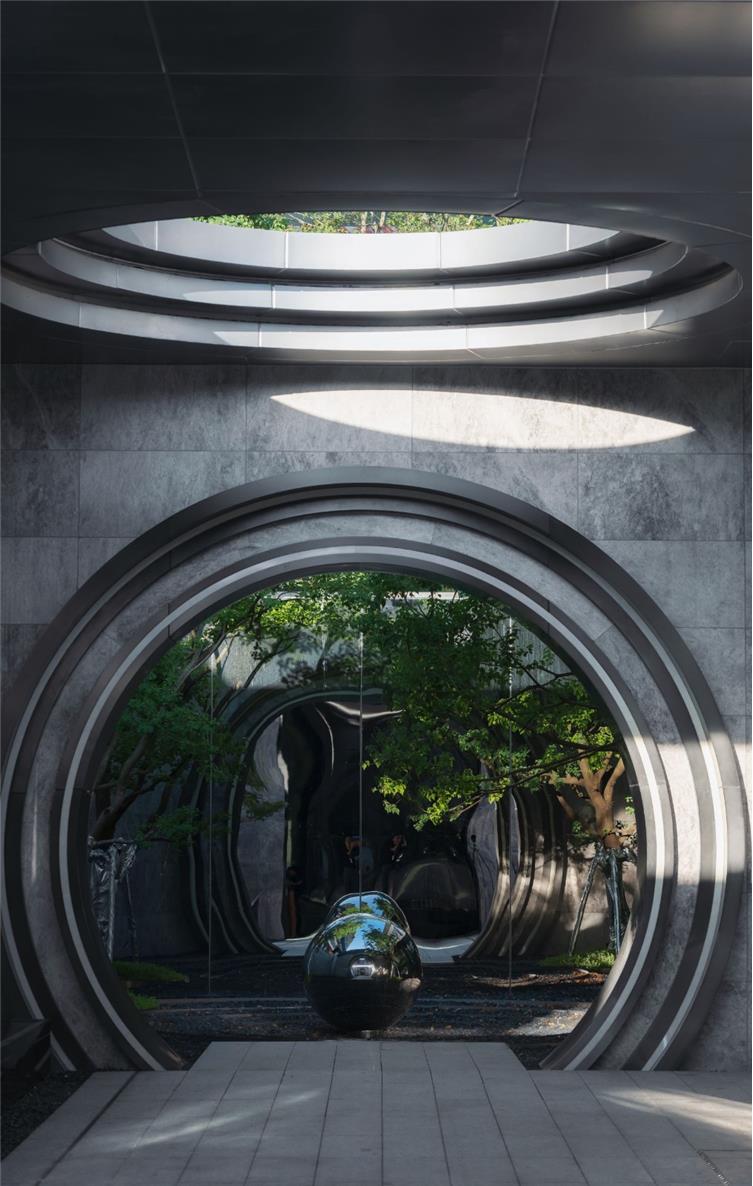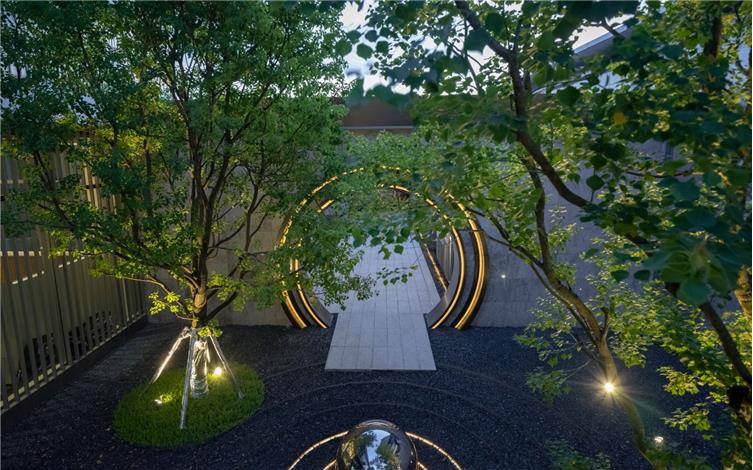 它永远流淌,无拘无束,
浸透水中,洗涤身上的浮尘,纯洁至真。
It is always flowing and unrestrained.
Let`s soak in water, wash away the floating dust and trouble, back to pure.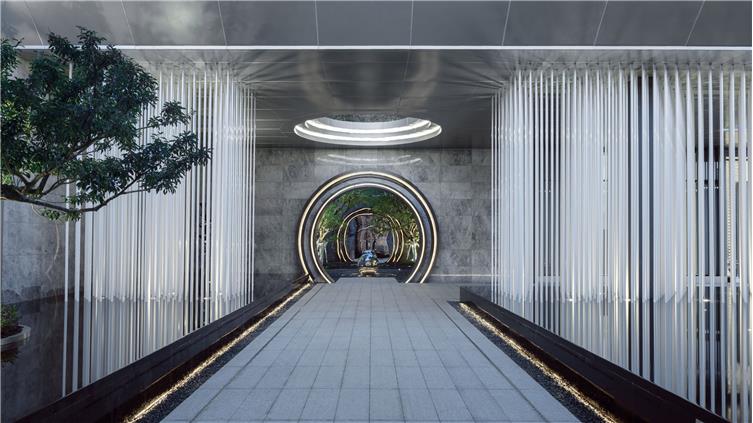 直线属于人类,荡漾的曲线则由上帝捏造,
静伫于此,随着直线回归自然,享受松弛生活中的每刻时光。
Straight lines belong to human beings, while undulating curves are made by God.
Stay here, follow the straight line and return to the nature, enjoy every moment of the wonderful life.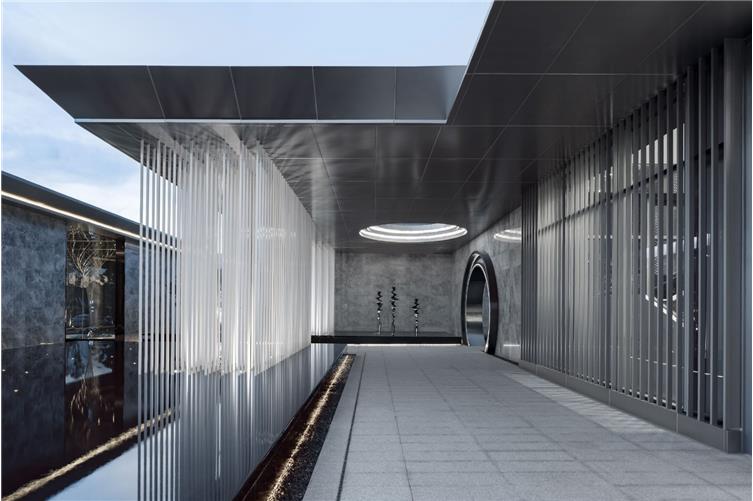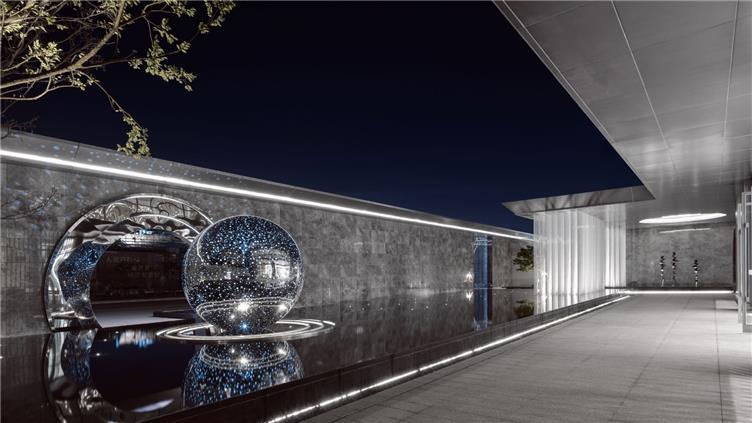 【 转折 】TRANSITION
漂浮失重 The Agravity
失衡 / 失重
空间存在莫名张力,
将我置于太虚幻境,
倒也能够畅快淋漓地落下。
There is an indescribable tension in the space, which puts me in a dreamland of emptiness.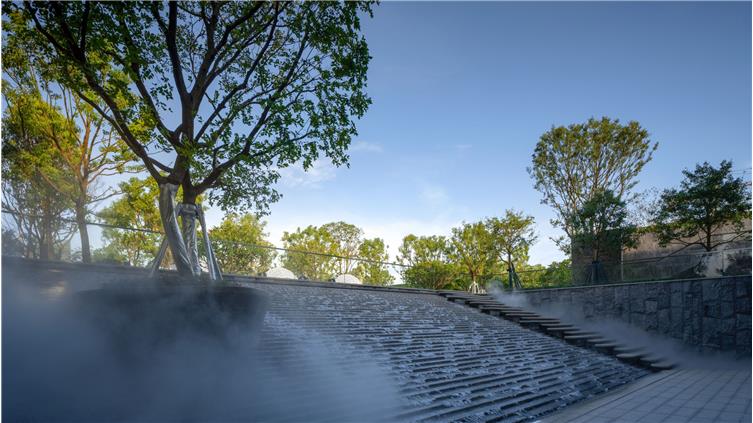 岭南江流鲜有贫瘠时刻,
水城故事始终丰盈饱满。
The river in south of the Five Ridges rarely run dry,
and stories at Nanning Wuxiang Lake are always vivid and abundant.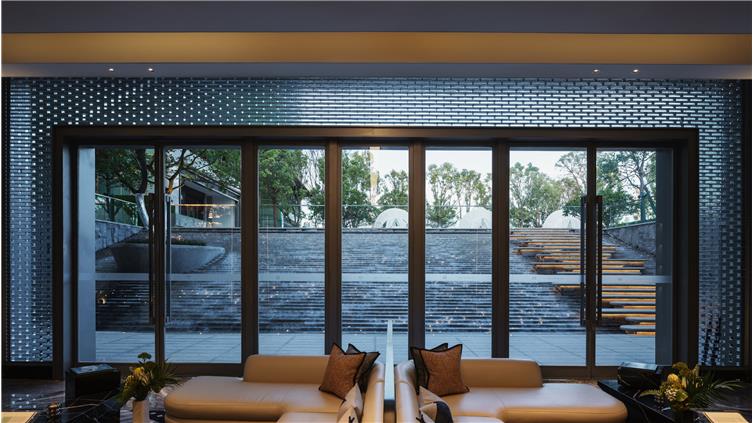 水珠落下,潋滟波纹幻化层级鳞甲,
涵盖着天上下,映衬着浮沉日光。
As the water fall down, the ripples of the water turn into the layered scales,
reflecting the sky and the ups and downs of sunlight.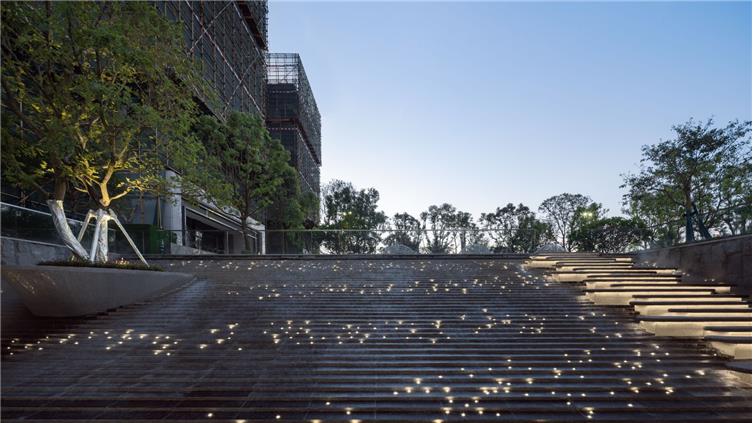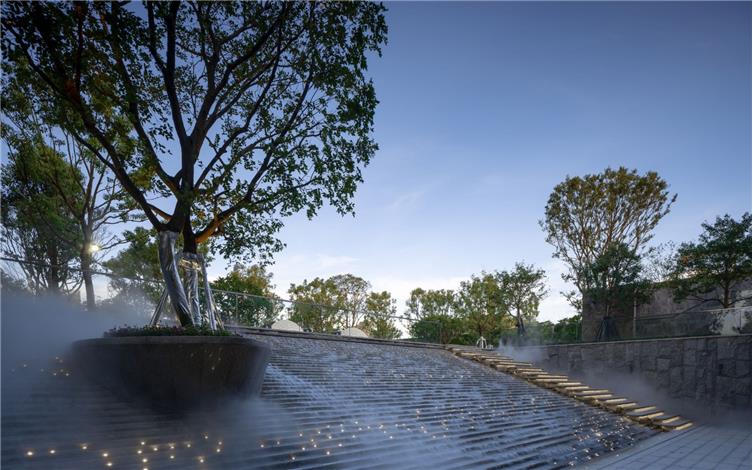 【 繁盛 】 PROSPEROUS
澄境人间 The Pure Land
世间奇妙的单色光
糅合成最丰富也最纯粹的白
The world`s most wonderful monochromatic light is the most colorful and the purest white.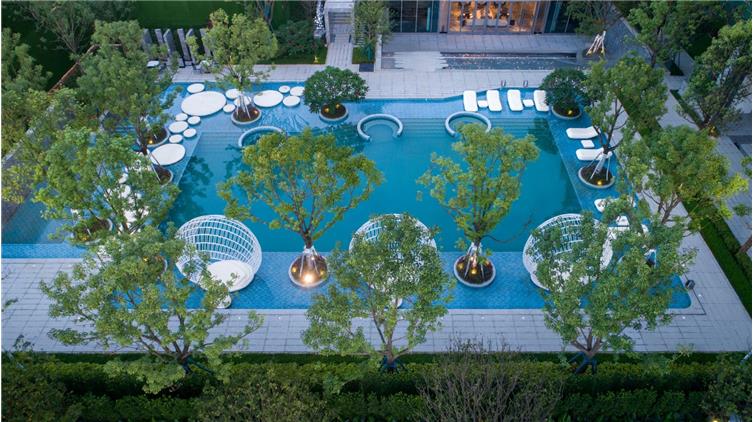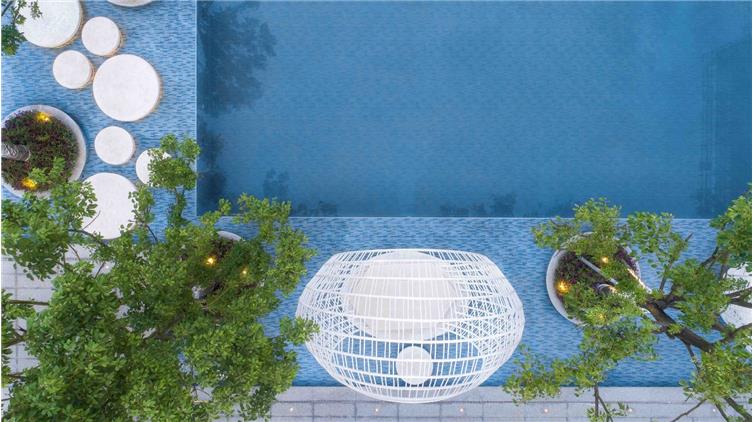 扑腾而起的水波拍打池岸,
崩碎离散的水分子亦有重聚之时,
欢乐始终如一,密集服帖。
The surging waves beat the bank of the swimming pool,
and the scattered water molecules will finally reunite again.
Joy here will be consistent and dense.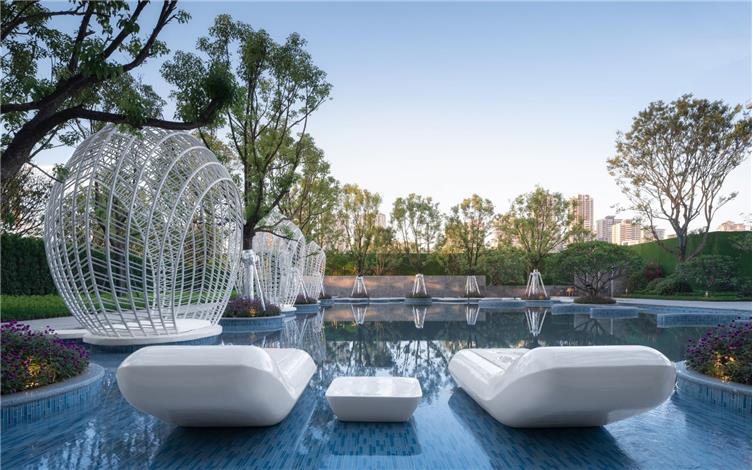 影像化的现实世界经得住生活的挑剔,
外放、翠爽,年轮的生长刻印在脑海。
The image of the real world can withstand the nitpicking from the life.
The space under the forest is always open and fresh,
and the growth ring will be engraved in our own min with time flowing.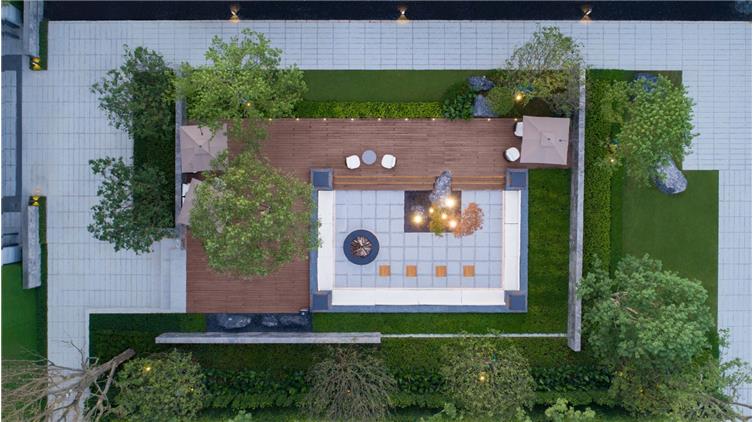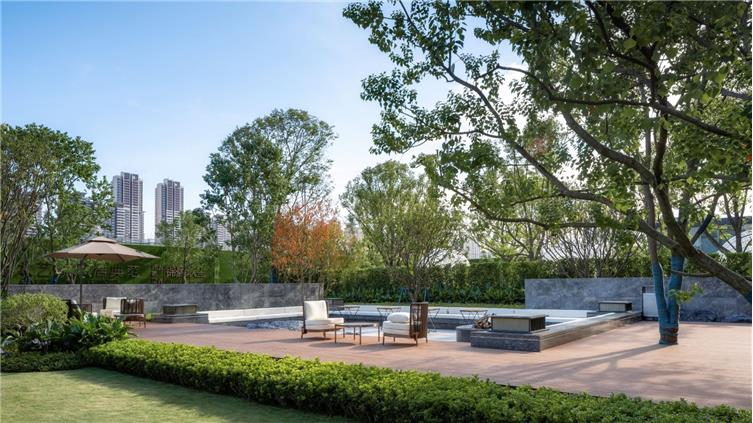 尾 声
"艺术必须出自于大自然,
自然已为人们创造出最独美的造形。"
当设计融入自然的千姿百态,
锦麟玖玺 成为艺术生活的载体。
生活中种种平常与反常,均在景物映衬当中,
景观的画面被捕捉,被诠释,赋予情感,
也被记忆定格留存。
"Art must come from nature, because nature has created the most unique
and beautiful form for people."
When design is integrated into the variety of nature,
"The Chosen One" becomes the best expression of art life.
All kinds of normality and abnormality in life are reflected in the scenery.
The picture of landscape was captured, interpreted, endowed with emotions,
and memorized by people.
项目信息
项目名称:南宁新希望龙光·锦麟玖玺
项目地址:南宁良庆区玉洞大道42号
建设单位:南宁锦麟置业有限公司
龙光团队:王会会、邓寻浮、杜艳婷、梁昶华、马艳虹
新希望团队:吕昭玮、邹敏、吴颂、肖洋、吴丹丹、陈鸿龙、韦盛
景观设计单位:致澜景观
景观方案设计:杨玄玄、冯浩、李秋燕、何金翼、李培安、林若兰
施工图设计:杨昆义、张艾、魏其乐、郑伟、邓颁、黄琴、刘波、姜博
后期营造:曾均建、曾寅
参数化设计:致澜景观数字中心
建筑设计单位:四川洲宇建筑设计有限公司
建筑施工图:广东现代建筑设计与顾问有限公司
摄影:雪尔空间摄影
项目面积:9896㎡
设计时间:2019.11
完工时间:2020.07
Project Name: Nanning NEW HOPE LOGEN · THE CHOSEN ONE
Project location: No.42, Yudong Avenue, Liangqing District, Nanning
Construction: Nanning Jinlin Real Estate Co., Ltd.
LOGEN Team: Wang Huihui, Deng Xunfu, Du Yanting, Liang Changhua, Ma Yanhong, Changhua, Ma Yanhong
NEW HOPE team: Lv Zhaowei, Zou min, Wu Song, Xiao Yang, Wu Dandan, Chen Honglong, Wei Sheng
Landscape design: Zinialand Design
Concept design team: Yang Xuanxuan, Feng Hao, Li Qiuyan, He Jinyi, Li Peian, Lin Ruolan
Construction design team: Yang Kunyi, Zhang Ai, Wei Qile, Zheng Wei, Deng Bao, Huang Qin, Liu Bo, Jiang Bo
Post – construction: Zeng Junjian and Zeng Yin
Parametric design: Digital Center of Zinialand
Architecture Design: Sichuan Zhoyu Architectural Design Co., Ltd
Construction of architecture: Guangdong modern architectural design and Consulting Co., Ltd
Photography: XUEER Space Photography
Project area: 9896㎡
Design time: November 2019
Completion time: July 2020